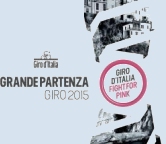 The 2015 Giro d'Italia started Saturday, May 9th in San Lorenzo Al Mare, and finished May 31 th in Milano after 3,482 kilometres in the saddle. It was an exciting race bringing day in day out totally unexpected scenarios, but in the end the winner was familiar: Alberto Contador. Along with Bernard Hinault he now is the only rider to have won alle three Grand Tours at least two times. (Slideshow route/profile)
Here you'll read about the full route of the 2015 Giro d'Italia. Click links in scheme below to find out details on all individual stages.
Giro 2015: stages
Giro 2015: Images and more
Click on the images to zoom.
More about the Giro d'Italia