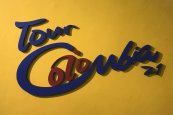 Edition 3 of Tour Colombia starts on Tuesday 11 February with an ITT in Nairo Quintana's domicile. The finish is on Saturday the 16th in the mountains above Bogotá. The final haul up climbs in 18.1 kilometres to an elevation of 3,266 metres. (Slideshow route/profile)
Read more about the route of Tour Colombia 2020, and take a look at the start list.
Miguel Ángel López is title holder. On last year's podium he was flanked by Iván Sosa en Daniel Felipe Martínez.
Click on the links in underneath scheme for in-depth information on the individual stages.
Tour Colombia 2020 stages:
Tour Colombia 2020: profiles, social media
Click on the images to zoom
Tour Colombia 2020