The first 12 kilometres are very straightforward. Flat roads, hardly any turns. So perfect terrain to push the big gear at breakneck speeds.
The course changes when a 900 metres false flat uphill section continues on a narrow and twisting country road. Roughly 5 kilometres later the riders re-enter the A811 and head back to Stirling.
After 3 kilometres on the A811 the next narrow country road lays waiting. It serves a 400 metres climb at 5% before continuing towards Stirling via Cambusbarron. This section features two hills with an average gradient of 3.7% – the first 300 metres long, the second 600 metres. The third intermediate time check is situated at the latter summit.
Following some twists and turns in Stirling the hardest climb of the day appears inside the last kilometre. The climb to Stirling is 800 metres long and averaging 5.5%, while the second part is paved with cobbles. Not very comfortable on an ITT bike.
There are three intermediate time checks – at kilometre 12.5, at kilometres 23.0, and at kilometre 31.9.
Other interesting reads: results and start list women's ITT World Cycling Championships 2023.
World Cycling Championships 2023, Scotland – ITT women: route, profile, more
Click on the images to zoom

route

profile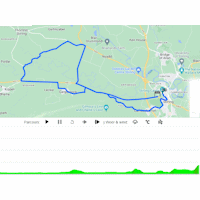 interactive map


Watch the highlights of recent races here:

Leave a comment

No comments yet, your opinion is most welcome.