Results 4th stage Volta a Catalunya 2019
1. Miguel Ángel López (col)
2. Gregor Mühlberger (aut) + 0.16
3. Marc Soler (spa) s.t.
4. Egan Bernal (col) s.t.
5. Adam Yates (gbr) s.t.
6. Nairo Quintana (col) + 0.19
7. Steven Kruijswijk (nld) s.t.
8. Guillaume Martin (fra) + 0.32
9. Michael Woods (can) + 0.41
10. Rafal Majka (pol) + 0.42
11. Daniel Martin (irl) s.t.
12. Romain Bardet (fra) + 0.43
13. Alejandro Valverde (spa) + 0.46
GC after stage 4
1. Miguel Ángel López (col)
2. Adam Yates (gbr) + 0.14
3. Egan Bernal (col) + 0.17
4. Nairo Quintana (col) + 0.25
5. Daniel Martin (irl) + 0.46
6. Steven Kruijswijk (nld) + 0.56
7. Micheal Woods (can) + 1.42
8. Romain Bardet (fra) + 1.44
9. Rafal Majka (pol) + 2.27
10. Marc Soler (spa) + 2.36
Race report
Pack still bunched at the top of the Coll de Coubet. Leader Thomas De Gendt pockets most KOM points before a breakaway of 24 riders takes shape. On board are Nibali (Antonio), Caruso, Herrada (Jésus), Bevin, Carthy, Storer, Matthews, Gallopin, Ciccone, Eg, Verona, Soler, Dombrowski, Martin, Mülhberger, Schachmann, Grmay, Impey, Reichenbach, Bizkarra, Navarro, Moinard, Villella and Knox.
The lead group widens the gap on the Port de la Creueta to more than 5 minutes. Mühlberger, Bevin and Verona attack and are the first riders over the summit.
The three are brought back by the chasers on the first climb to La Molina. Soler moves clear and Mühlberger joins him. They reach the ski resort 1.30 minutes ahead of their former companions, while the peloton is 1 minute further behind.
Soler and Mühlberger hit the second of last ascent to La Molina with a stable gap over the main group. Leader De Gendt is dropped shortly, while the chasers are reeled in.
López accelerates in the GC group. Bernal and Quintana bridge across before Yates regains contact.
Another attack by López opens up a proper gap and he catches Soler and Mühlberger inside the last 5 kilometres. Meanwhile, Kruijswijk rejoins the Yates group.
Yates and Bernal try to bridge across when the climb levels out in the last kilometres, but López is too strong. He goes solo inside the last kilometre and wins the race, while the Yates/Bernal combo manage to make contact with the last survivors of the breakaway, Mühlberger and Soler. Yet, they lack the power to overhaul them and win time bonuses.
López moves into the GC lead with Yates 14 seconds behind and Bernal another 3 seconds further back.
Another interesting read: route 4th stage 2019 Volta a Catalunya.
Volta a Catalunya 2019 stage 4: route, profile, more
Click on the images to zoom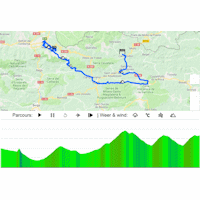 interactive map

video finale

#voltaacatalunya

@VoltaCatalunya
The race is expected to finish around 17:00 – local time.