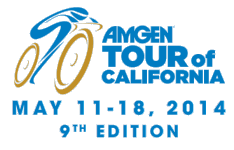 May 9th sees the start of the 9th edition of the Tour of California. Traditionally, the 8-day stage race runs from north to south of the west coast state, this year being no different. Just like previous editions the 2014 race will feature a well balanced combination of racing time trials, climbing and sprinting. (Slideshow route/profile)
The Tour of California is perfectly suited for riders who are preparing for the Tour de France. In Europe the Giro d'Italia takes place at the same time, but the sheer duration of that race makes it a tricky target for those with eyes on La Grande Boucle.
Click the links in the table below for details on each stage.
Tour of Californië 2014: Stages and results
Tour of California 2014: Images and more
Click on the images to zoom
Social Media Tour of California




Videos Tour of California



Instagram @amgentoc



Tour of California Tweets
Tour of California 2014