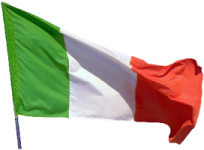 The course of the 102nd Giro d'Italia is yet to be revealed, but three places are rumoured to host the Grande Partenza. What is it going to be, Marseille (France), Matera (south of Italy), or somewhere in Poland? Reportedly, the first Grand Tour of 2019 will take in climbs up the Mortirolo, Passo dello Stelvio and Tre Cime di Lavaredo. The Rome finish could be scrapped in favour of Milano. Yes, a lot of uncertainties, but the date of the Big Start is confirmed: Saturday, the 11th of May 2019, while the last stage will take place on Sunday, the 2nd of June.
Chris Froome is title holder. 2018's podium was rounded out by Tom Dumoulin and Miguel Ángel Lopez.
Giro d'Italia 2019: Google Maps, videos, and more
Click on the images to zoom.