Results Strade Bianche 2023
1. Tom Pidcock (gbr)
2. Valentin Madouas (fra) + 0.20
3. Tiesj Benoot (bel) + 0.22
4. Rui Costa (por) + 0.23
5. Attila Valter (hun) s.t.
6. Matej Mohoric (slo) + 0.34
7. Pello Bilbao (spa) + 1.04
8. Romain Grégoire (fra) + 1.18
9. Davide Formolo (ita) + 1.23
10. Andreas Kron (den) + 1.35
Race report
Alessandro De Marchi, Sven Erik Bystrøm and Ivan Romeo open a gap on the second sterrato. The three carve out a lead of 7 minutes.
The gap has fallen below 3 minutes on the Monte Sante Marie sector when Bettiol ups the pace in the peloton. Bagioli and Pidcock go with him before the Briton leaves the two behind in an unpaved descent.
Meanwhile, De Marchi and Bystrøm are the only remaining riders at the front. At the end of the Monte Sante Marie sector – with 42 kilometres left – Pidcock makes the catch.
After re-entering the tarmac Andreas Kron opens the chase. Valentin Madouas and Pello Bilbao go with him, while Tiesj Benoot, Rui Costa, Matej Mohoric, Attila Valter, Romain Grégoire, Quinn Simmons and Davide Formolo rejoin them with 31 kilometres to go.
Pidcock goes alone in the ninth sterrato, while Benoot attack from the chase group with 21 kilometres remaining. Costa and Madouas track him down before Valter, Simmons and Mohoric bridge across in sterratto 10.
Pidcock is 12 seconds clear while moving through Le Tolfe after the last sterrato. Valter is the first chaser, but it comes together on the tarmac. Simmons is no longer on board.
Benoot accelerates inside the last 7 kilometres with Madouas and Costa in his wheel. Valter and Mohoric come clawing back. The cooperation is far from good, which suits Pidcock just perfectly.
The Brition enters the last kilometre 29 seconds ahead of the chase group and he wins the race. Madouas and Benoot finish in second and third.
Other interesting reads: route and start list Strade Bianche 2023.
Strade Bianche 2023: routes, profiles, more
Click on the images to zoom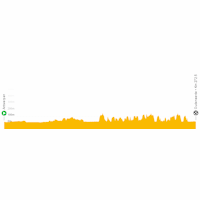 live tracker
Strade Bianche Route
Strade Bianche Favourites