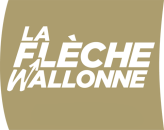 Edition 87 of La Flèche Wallonne – The Walloon Arrow in English – is held on Wednesday 19 April. Dating back to 1936, the steep hills of the Ardennes are emblematic of the race. The finish lies at the top of the Wall of Huy, a 1.3 kilometres climb with sections up to 17%. (Slideshow route/profile)
Read about the route and the start list of La Flèche Wallonne.
Dylan Teuns is title holder. The Belgian outclimbed Alejandro Valverde and Aleksandr Vlasov last year.
Another interesting read: winners and records on La Flèche Wallonne.
La Flèche Wallonne 2023: routes, profiles, more
Click on the images to zoom
La Flèche Wallonne 2023