[This information is no longer accurate as the race has been cancelled on the 30th op September. The 55th edition of the Amstel Gold Race will be held in 2021.]
In all the last two editions since the race was re-invented 2017 the final haul up Cauberg proved to be decisive. Last year, Kasia Niewiadoma jumped clear on the early slopes and managed to hold off Annemiek van Vleuten by 3 metres after a furious chase, while the 2018 edition down boiled to a three up sprint with Chantal Blaak outgunning Lucinda Brand and Amanda Spratt. In 2017, Anna van der Breggen attacked ahead of the Cauberg and soloed to victory.
After the start in Maastricht the route winds its way through the hilly Limburg region in the south of the Netherlands. Following climbs up the Slingerberg, Adsteeg, Lange Raarberg, Bergseweg, Zwartebrugweg, Plettenberg, Eyserbosweg, Fromberg and Keutenberg, the women tackle the famous Cauberg for the first time. It is the most revered hill of the Netherlands, which climbs for 800 metres at 6.5%.
1.6 kilometres after the Cauberg the riders first pass the finish line. Still three laps of 17.9 kilometres, with three times the Geulhemmerberg/Bemelerberg/Cauberg combo, to go.
The Geulhemmerberg is 1 kilometre long and the average gradient sits at 5%, while the picturesque Bemelerberg is a winding 900 metres climb at 5%. A false flat and an ensuing drop take the riders back to village Valkenburg, which lies at the foot of the Cauberg.
Amstel Gold Race Ladies Edition 2020: route, profiel, meer
Click on the images to zoom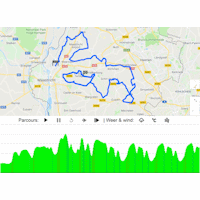 interactive map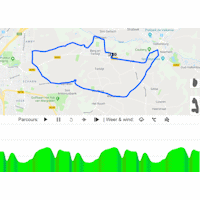 circuit interactive
finale


Watch the highlights of recent races here:

Leave a comment

No comments yet, your opinion is most welcome.