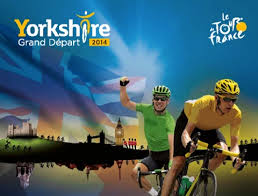 Saturday, July 5, the 2014 Tour de France starts in Leeds, England. It's a flat stage – looks like a preconceived plan to help Mark Cavendish take on the first yellow jersey. In 2013 he didn't succeed at Corsica due to a crash, will he be more lucky in his homeland?
The next two stages are in the UK as well. Stage 3 of the 2014 Tour finishes in London, after which the Tour caravan moves to the mainland. Riders face a leg with cobblestones on the fifth day. In total the 2014 Tour will have six top finishes en there's only one time trial, on the penultimate day.
Cyclingstage.com keeps you posted concerning the route and stages of the 2014 Tour.
Stages of the 2014 Tour de France (provisionally):
Tour de France images
Click images to enlarge.
Source: letour.fr
Candidates Tour de France 2014Tour de France 2014Mountains Tour de France 2014Route and Stages Tour de France 2014